Hi It's Unicorn
What is the Funding Fee?
Unlike traditional futures, cryptocurrency futures are mostly perpetual contracts with no expiration date. You can regard the funding fee as a device which can adjust the price gap between cryptocurrency futures and spot. 
✓ Bitget fund fee is generated every 8 hours, which are 00:00, 08:00,16:00  in Korean time. Bitget doesn't charge any fund fee, which are collected by traders. 
Where can I see BitGet funding fee?
Step 1. Enter Bitget homepage and click "Futures" on the upper right → Select USDT- Futures!
➣ Click "USDT- Futures" in the menu to enter the trading screen!
Step 2. Click Future information → Select funding rate!
➣ Click "Future Info" in the menu at the top of the transaction screen!
➣ Click "Funding Rate" in the menu to check the funding cost.

Step 3. Select the coin pair you like → Check the funding fee!
➣ You can check he funding cost of each futures contract below!  
➣ Now, select the coin you like and check the funding fee collected in each period!!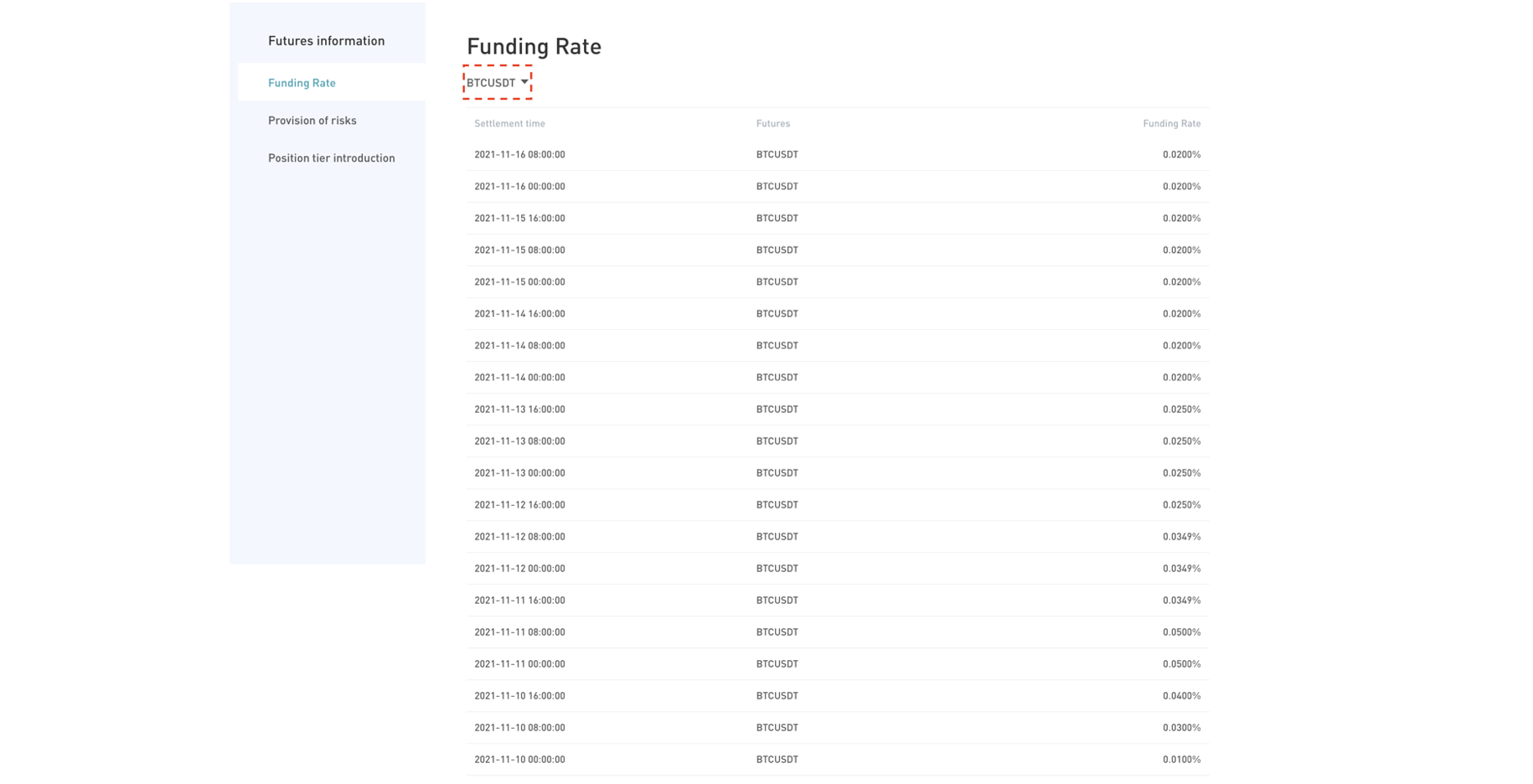 Tips on BitGet Funding Fees!
➣ The essential purpose of the funding fee is to adjust the price gap between spot and futures. To control this, it is exchanged directly between buyers and sellers; and, in most cases,  long position holders pay the funding fee to the short position holders.
➣ The funding fee on Binance and Bybit is usually abound 0.01%, but the funding fee is generated abound 0.02~0.05% every 8 hours on Bitget. You can create a a steady profit by using the funding strategy. In addition, if you adjust your position once a day, you can make money with compound interest.
➣ In order to reduce the funding cost, you will hedge against market price fluctuations after aligning the ratio of the spot and futures 1x short of the specified coin equally. For instance, you hold 1 BTC in spot and short your BTC/USDT perpetual contract by 1x. If so, you can receive a steady funding fee every 8 hours without being affected by the movement of the market. A simpler way is to short 1x on an inverse contract such as BTC/USD to freeze your funds but still receive funding!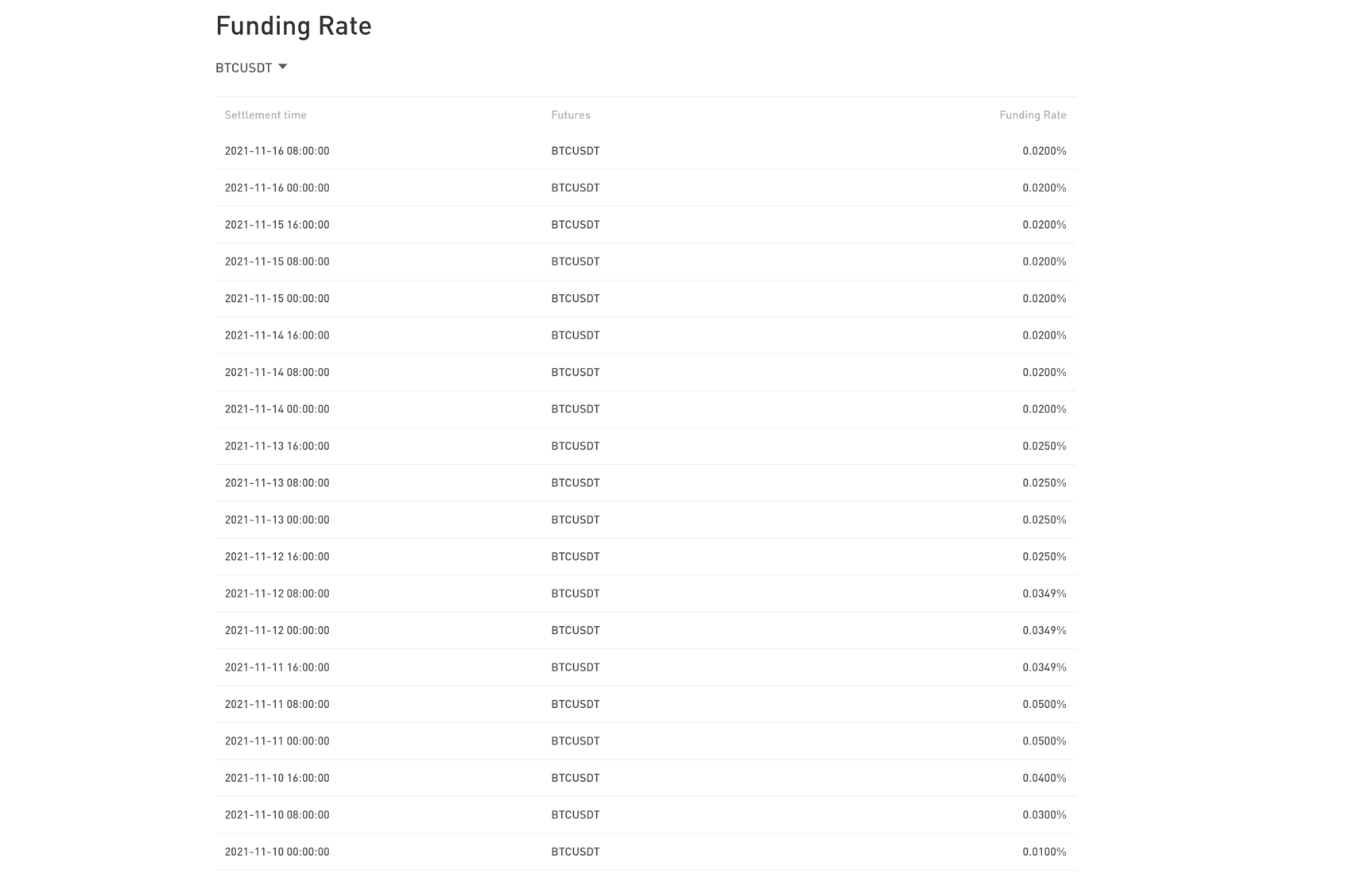 (BTC/USDT perpetual contract funding fee!)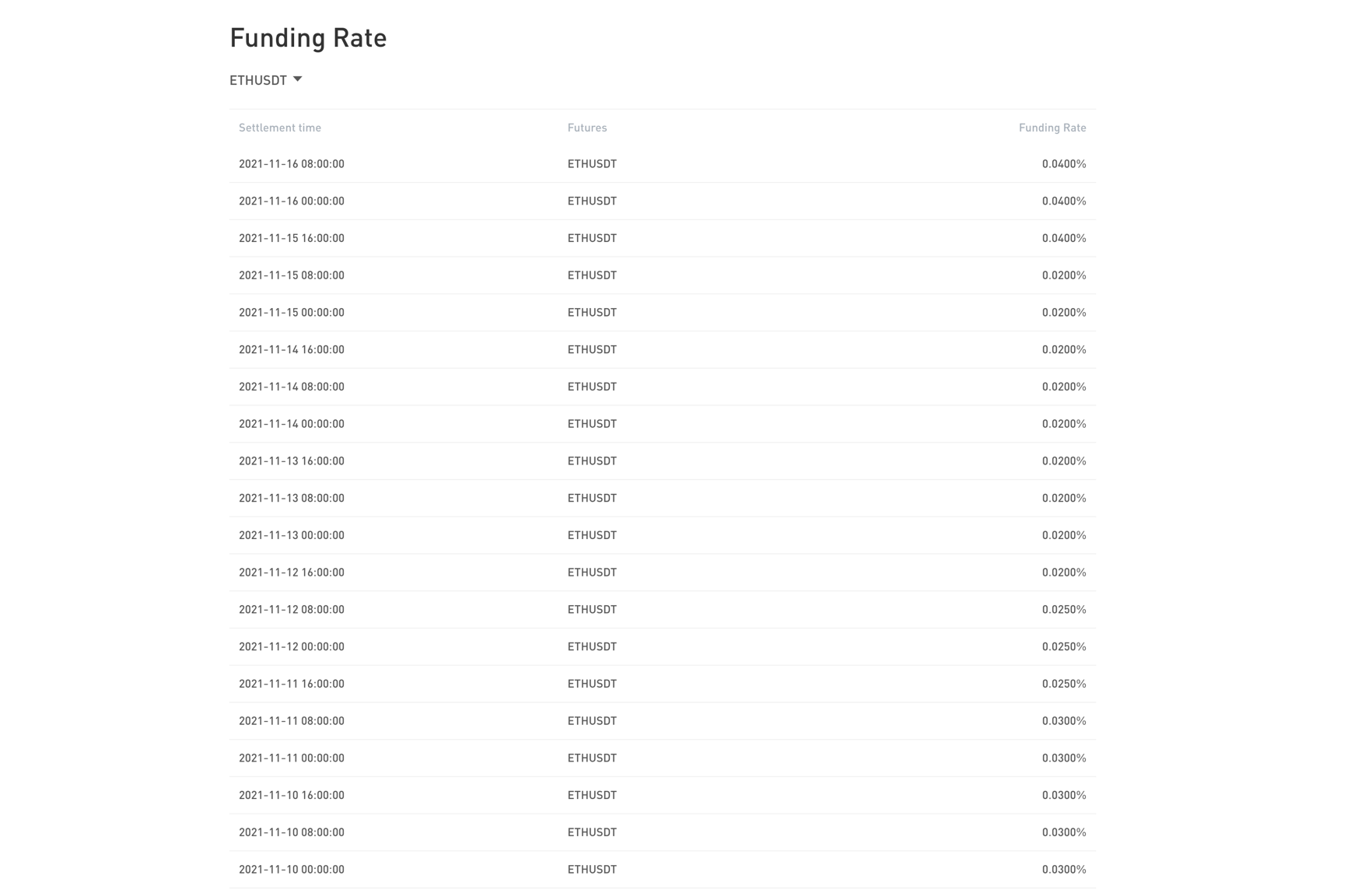 (ETH/USDT perpetual contract funding fee!)
What is the BitGet exchange fee?
1. Bitget spot rate!
➣ Bitget spot rate: market price (0.2%) and limit price (0.2%).
➣ If you have BGB, you can get fee discount.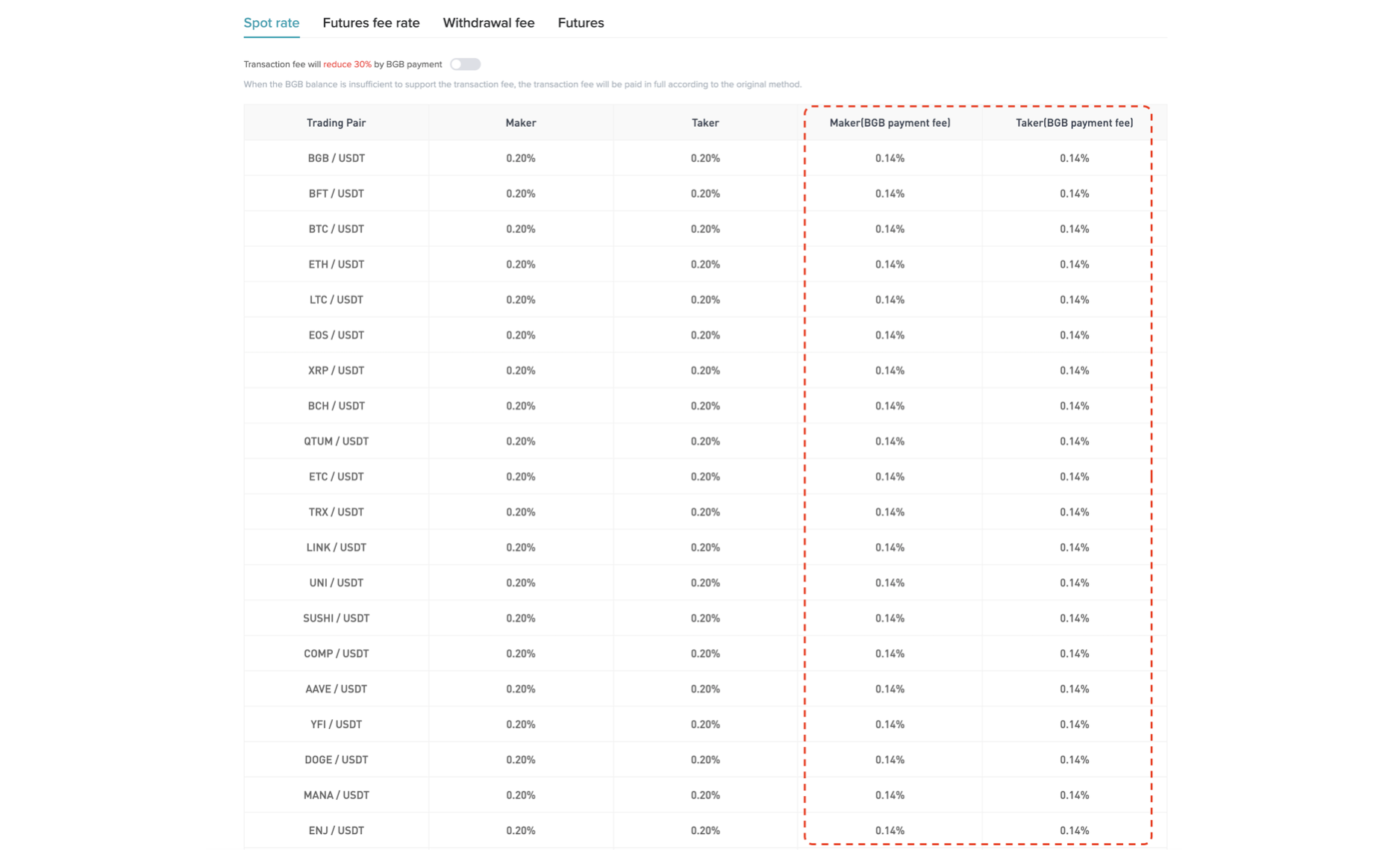 2. BitGet Futures Fee rate!
➣ Bitget futures fee is the lowest in the industry.
➣  If you sign up with the VIP link we provide, you can get a 50% discount!
➣ With the discount, you can have very low commissions at market price (0.03%) & limit price (0.02%)!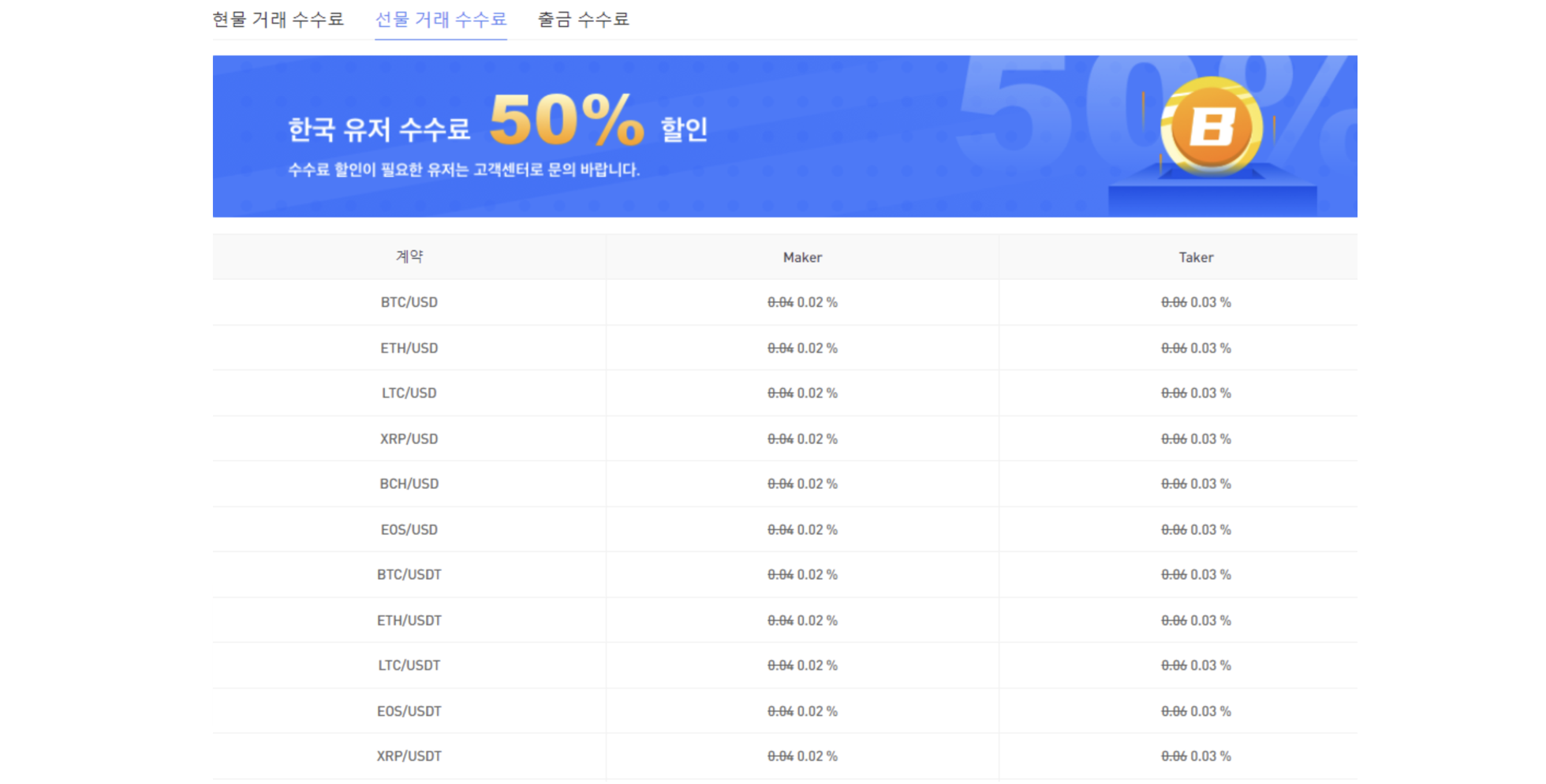 3. Bitget Withdrawal Fee
➣ Deposit and withdrawal fees fluctuate according to network costs. Therefore, Bitget has announced a data sheet against network costs that users will not confuse anymore.
➣ For the most used USDT, you can use ERC20 / TRC20 / OMNI / BEP20 networks. The lowest fees is the BEP 20 network, The minimum withdrawal requirement is TRC20 network.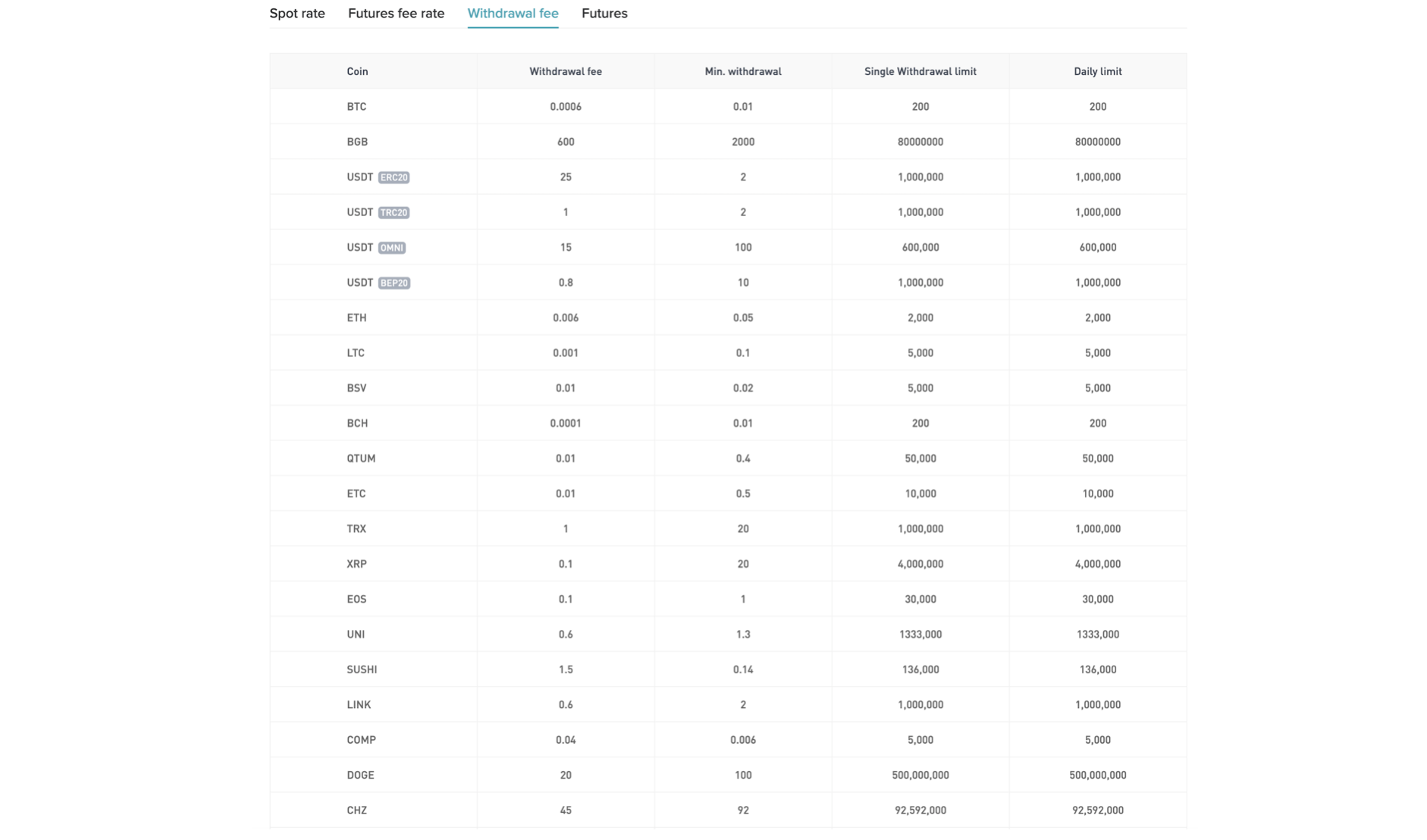 | 번호 | 제목 | 글쓴이 | 날짜 | 조회 수 |
| --- | --- | --- | --- | --- |
| 공지 | UNICORN] BINANCE, BYBIT, FTX, BITMEX REFERRAL CODE (UP TO 20% DISCOUNT) | UNICORN | 2021.04.20 | 194 |
| 110 | What is the potential of BitDAO | UNICORN | 2021.12.09 | 73 |
| 109 | What is BitDAO? | UNICORN | 2021.12.03 | 26 |
| 108 | Cryptocurrency introduction for Novices | UNICORN | 2021.12.01 | 164 |
| 107 | Investment Strategy for Novices | UNICORN | 2021.11.29 | 55 |
| 106 | How to Use Quanto Swap on Bitget | UNICORN | 2021.11.26 | 22 |
| 105 | Bitget Quanto Swap | UNICORN | 2021.11.25 | 25 |
| 104 | Bitget margin trading(2) | UNICORN | 2021.11.23 | 62 |
| 103 | Bitget margin trading(1) | UNICORN | 2021.11.22 | 39 |
| » | How much is the Bitget fee and funding fee? | UNICORN | 2021.11.19 | 101 |
| 101 | Bybit Funding Fee | UNICORN | 2021.11.17 | 37 |
| 100 | Bitget Spot Trading (Limited price, Market price) | UNICORN | 2021.11.16 | 32 |
| 99 | Copy Trade on Bitget | UNICORN | 2021.11.12 | 51 |
| 98 | Margin Call on Bybit | UNICORN | 2021.11.11 | 45 |
| 97 | The fees of Bybit Exchange | UNICORN | 2021.11.09 | 71 |
| 96 | Bitget simulated trading(2) | UNICORN | 2021.11.02 | 97 |
| 95 | Bitget simulated trading(1) | UNICORN | 2021.11.01 | 86 |
| 94 | Short selling on Bybit | UNICORN | 2021.10.29 | 56 |
| 93 | How to buy coins by Credit Card on Bitget! | UNICORN | 2021.10.26 | 84 |
| 92 | Bybit vs Bitget exchange (1) | UNICORN | 2021.10.22 | 78 |
| 91 | Bitget withdrawal | UNICORN | 2021.10.19 | 86 |